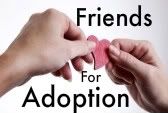 It all started with two ladies waiting for a child from Taiwan... They became friends and a source of support for each other. And then they had the idea of Friends for Adoption: a matching program for waiting adoptive parents!
It's such a great idea!
All you have to do is visit
Brooke's blog
to register. She will match you with your Friend for Adoption. Each Friend has to send a little something every month. It can be a gift, or even just a card for support. It has to be less than $15.
I just got matched with Tina, an american Mom waiting for her baby from Poland. She seems really nice, I'm sure we'll get along great! Please visit her blog:
http://ourpolishadoption.blogspot.com/
.
I will keep you guys posted on how the program is going!